Smartwatches can make your daily life easier and protect your overall health. It is high time for you to move from your traditional watch to a smartwatch. By doing so you'll be adding some apps and notifications to your wrist that can perform lots of tricks. If you are looking for the best smartwatch under 200 to match your budget, then check out the top picks list.
Almost all of the smartwatches from renowned brands come with some advanced features, like search anything on the web with your voice, GPS location tracking, or even monitoring your heart rate. It looks like you have a smart brain on your wrist.
Best Smartwatch Under 200 At a Glance: Top Picks
Best Overall: Fitbit Versa 2
Best for Workout: Fitbit Charge 5
Best Value: Ticwatch Pro 4
Best for Fitness Tracking: Garmin vívoactive 3
Best for Battery Life: Fossil Women's Gen 4 Venture
Best for Stylish Look: Fitbit Ionic Watch
Best for Activity Tracking: Amazfit T-Rex Pro
Best Smartwatch Under 200 That You Can Buy Today
1. Fitbit Versa 2
---
Size: One Size | Charge time: 02 hours|Free Trial: 90-days |OS: Android |Payments: Fitbit Pay |GPS: Built-in GPS |Track daily Activities: Yes |Exercise Modes: 15+ Modes |Battery Life: 6+ Day |HR Monitor: 24/7 heart rate |Battery type: Lithium-polymer |Swim-proof: Up to 50M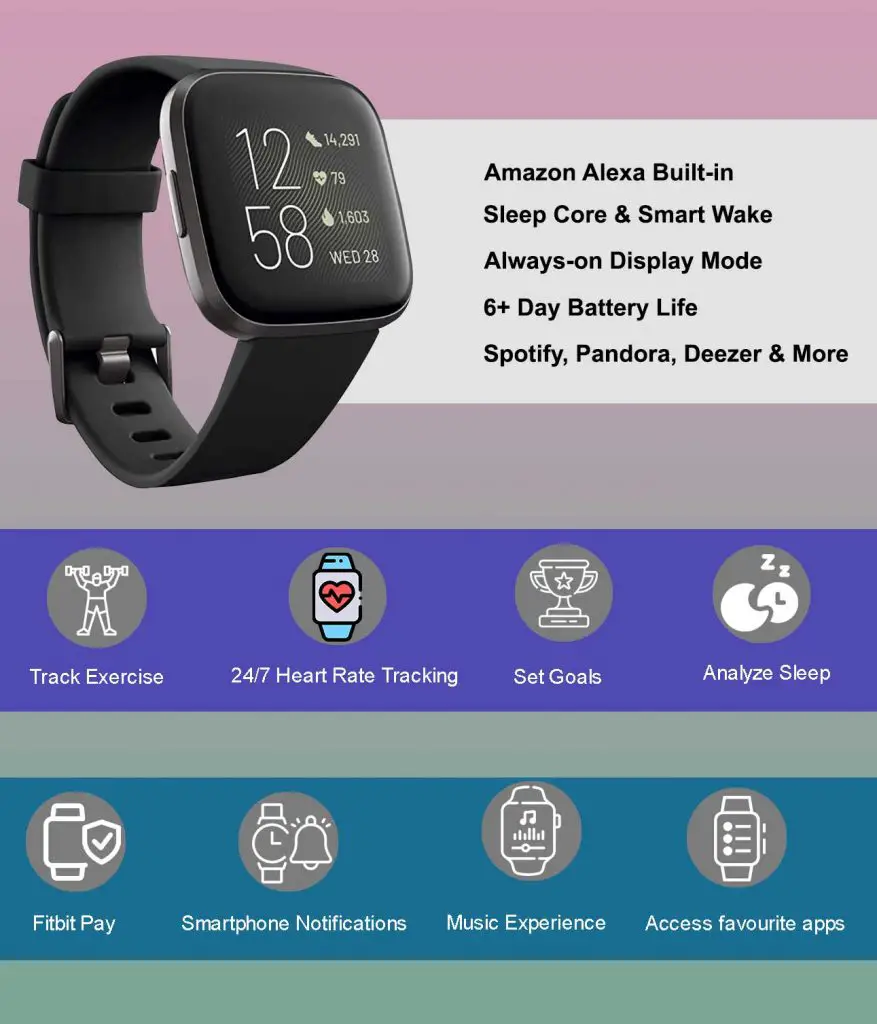 Fitbit verse has a touchscreen so you can just kind of navigate pretty easily throughout the menus that you have on the versa 2 itself. I like the one-button minimization of it. I didn't think you really needed three buttons. The overall design and feel of the watch feel really light and that's one of the things that have always had against versa's and it's not just a versa – but the first one also felt pretty light on your wrist.
I think that is a design choice made by Fitbit. Because this watch is designed to really be a workout a lot to watch it. You wear it while you're jogging or going to the gym and you don't want something heavy or something that feels cumbersome on your wrist as you move forward. So they use a lot of lightweight materials to produce this particular watch which benefits some users and users really love it.
It has an AMOLED display with a touchscreen protected by Gorilla Glass 3 and an aluminum watch case. Connectivity-wise you have Bluetooth 4.1 with Wi-Fi. It's water-resistant up to 50 meters and sensor wise it has a three-axis accelerator meter, an optical heart rate monitor, an altimeter, and an ambient light sensor and it also has NFC support.
What I hated about the Versa too were the huge bezels. Those bezels are very huge and very print hung around the screen of the watch itself. I still don't know why they put the huge bezels there. It's kind of a tease because you get a really great screen but it's boxed in in this really small confined space. I think a good bit should have done a little bit more to stretch to screen out just a smite more than it is currently.
I don't think you necessarily need a full-screen display but something a lot bigger than what's currently there. The bezels are a distraction and it's kind of a throw-off because when you look at the watch when it's off. It looks like you're having a full-screen display when you power it on and you see these black bars going around it.
2. Samsung Gear Fit2 Pro (Renewed) (Large)
---
Samsung Gear Fit2 Pro is the best activity tracker from Samsung. It has a curved AMOLED touch screen. The watch has a range of charts that are quite detailed.
It has a partnership with speedo which allows you to track pool distances and lengths that you're swimming. Its really cool feature about the watch is the number of selectable styles. There are already lots of amazing styles available on it and you can download more latest styles on it.
What is the difference between the large & small?
It is actually the size of the gear band. The size of the wrist for small is 125~165mm and for large is 158~205mm.
Is it support wireless earbuds?
Yes, you can use your earbuds. It will pair with wireless earbuds.
3. TicWatch Pro 4G LTE
Let's start off with the screens because that's the big selling point of this watch and it's very important to understand that. Now you have a 1.4-inch screen here so pretty big and it's an AMOLED screen is the main one.
You're gonna be using it for most of the SmartWatch functions. Then something I like about it is that you don't really see a black ring.
Like the double bezel, they have on some other watches instead you have like this nice little just you know the classic minute marks around the watch there.
They kind of cover-up where the bezel actually would be so. It looks pretty nice overall in shape is pretty similar to the Galaxy watch. But we do not have a rotating bezel. We have two buttons on the right side and neither of those rotate. I mean technically they rotate but they don't do anything when you rotate them.
So we don't have a crown which means all of your navigation is either from pressing the buttons or from swiping on the screen. Now looking at the two buttons, the top button is going to open your app drawer or else go home, and if you tap and hold it opens Google assistant.
You'll get the tick health app on the watch by default to lead a healthy life. So if you want to work out using their app you can do that right there. Double tapping either of these does nothing and then tapping and holding the bottom button is how you'll switch into a central mode or power off your watch.
Now on the right side, we also have a microphone so you can use that for google assistant or for phone calls. So you can field phone calls on this watch. There's also an LTE version available and the speaker. If you look on the watch you may actually struggle to find it at first.
Because I didn't see a speaker when I was wearing the watch. But when you take it off you'll actually see it inside on the bottom part of your wrist. That's where they hide the speaker. So it is a little bit muted when it's on your wrist. It's kind of strange to have it down there but it does serve its function and you can still hear everything that you need to the body of this.
We have our stainless steel and plate right there with the heart rate sensor at the two diode heart rate sensor on the back. The charger option on the left side the four little nodes there.
The watch strap comes with genuine Italian leather and it has rubber on the inside so it a really nice probably one of my favorite watch straps where it's pretty soft it feels really comfortable. It just is a very nice feeling watch strap now. This is waterproof ip68 which means you can go swimming with it drop it in the water shower whatever you want to do just maybe don't go diving with it.
Top Features:
Always-on display
Longer battery life
Equipped with a heart rate sensor
Built-in activity tracking
Customizable buttons
Swap-able straps and dial designs
4. Garmin 010-01769-01 Vivoactive 3
5. Fossil Women's Gen 4 Venture HR
6. Amazfit T-Rex Pro Smartwatch
7. Apple Watch Series 3
8. Fossil Men's Gen 5E 44mm
9. Ticwatch E3 Smart Watch
Ticwatch E3 is a smartwatch powered by Wear OS by Google, featuring a Qualcomm Snapdragon Wear 4100 platform and Mobvoi dual-processor system.

The 1G RAM and 8G ROM enable smoother performance and more precise interactions. NFC payment supports Google Pay.

Allow you to track the health data of multiple family members. More than 20 professional workout modes, including swimming, running, cycling, climbing, badminton, etc.
10. Fitbit Charge 5
The Fitbit Charge 5 is an advanced fitness and health tracker that helps you maximize your workouts, better manage everyday stress and improve your overall health.
With 24/7 heart rate tracking, a personalized daily exercise score based on resting heart rate variability (HRV) and all-day stress levels, automatic sleep tracking, and insights into how much deep sleep and REM sleep you're getting each night, the Fitbit Charge 5 empowers you to reach your goals.
FAQ's
What is the difference between the watches that have only GPS and the ones with gps+cellular?
You can use your watch without your phone or wifi with cellular
Does the white band get dirty easily with daily wear?
Well, it depends on several factors. But most of the white silicone band starts to pick up daily environmental debris, dirt, and sweat after 3 months. You need to buy a new brand for that case.
Final Words
The latest crop of smartwatches does a lot more than just tell time. Compatibility with your taste is the most notable factor while making the decision of purchase.
Related Article