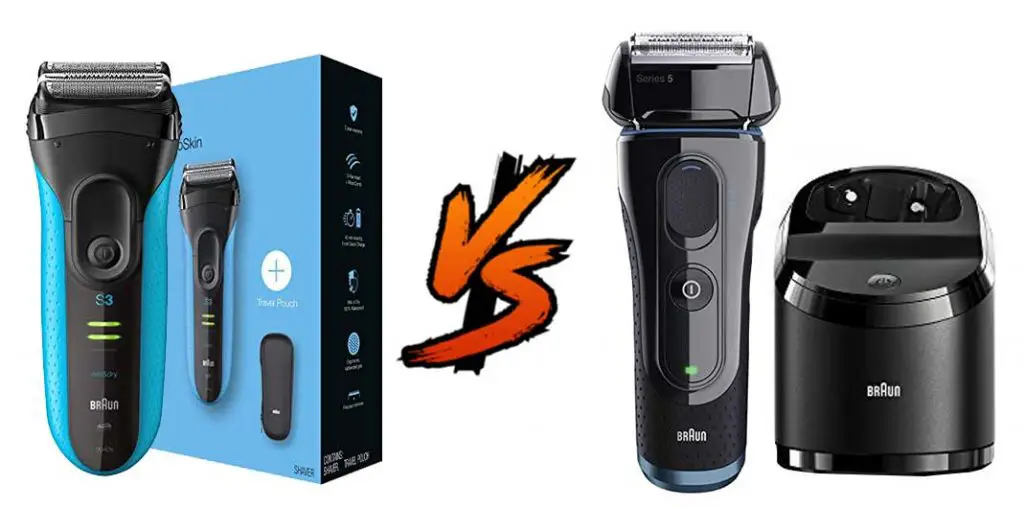 Everyone prefers Braun electric shavers because of their excellent performance and reliability, smooth shave. Braun Series 3 is a great shaver as you would know if you used it already. It's might be tempted to stick with it if you haven't read our review on Braun series 3 vs 5.
This also could happen if you haven't tested the other one by yourself yet. And If you are interested to upgrade your existing electric shaver, Braun series 5 will be the perfect one.
Introduction to the Braun Series 3 and 5
Braun Series 3 3010s ProSkin
I'll show you some major comparisons for different models head to head(for both series). Then focus on the improvements that Braun has made to the Series 5. And that should be given your consideration.
I can guarantee you the fact that it will be well worth reading. So, our good experts have gathered in-depth information about Braun series 3 vs 5 review & Guide for you. Now let's start…
Braun Electronics is something everyone is aware of. They provide many electronic devices and gadgets with the latest technology to add comfort to our lives. Today we are going to talk about Braun shavers.
These shavers are so good in quality that in a very short time they became the 1st choice of every man. No matters how sensitive your skin is Braun shaver takes care of it softly and gently.
Whether you are a young adult or aged, everyone loves their skin, is attracted to something comfortable to their skin. Braun provides you amazing series of shavers.
Braun Series 3 3040s Versus Series 5 5190cc
Table of Comparison
Braun shaver series 3 3040s has many special features, one of which is that it comes with a specialized micro comb that is designed to capture every tiny hair and gives you smooth and flawless shave.
Where Braun shaver series 5 5190cc comes with a flexible head, which can move to 8 different directions to work better even in difficult areas.
Braun shaver series 3 3040s is tested on a 3-days beard, and it was completely flawless. It is manufactured with life-long rechargeable batteries.
For the sake of your skin's comfort, 3 pressure-sensitive shaving elements are added in it which makes your skin smoother after the shave.
The flexible head of Braun shaver series 5 5190cc can cover those areas of your face which can't be reachable for other shavers. It also has a long-lasting rechargeable battery which makes it useful for 50 to 60 minutes after one hour of charging.
Both models are waterproof and are usable with foam, gel, and underwater.
But Braun Series 5 5190cc is much better than the Braun Series 3 3040s, as it is more hygienically easy to cleanse as compared to Series 3 3040s.
Braun shaver series 5 5190cc has an amazing, updated foil shaver with a charging system.
Braun Series 3 3050cc Versus Series 5 5030s
Comparison Table
Braun shaver series 3 3050cc foil shaver for men is packed with so many amazing features. Its micro-comb can easily cut your tiny hairs even from the difficult part of your face.
You need to charge this for one hour and it will last for the whole week, it isn't amazing. It's premium NiMH battery made this shaver a wonderful product.
Braun shaver series 5 5030s comes with special properties of skincare. It has skin sensitive technology for great performance and amazing comfort for your skin. Auto-Sensing motors are created for a flawless shave on every single day.
It comes with 8 directions comfort head flex to work on even harder areas of your face. If you are in a hurry or in some kind of emergency you can use it even while charging on.
Braun shaver series 3 3050cc blades retract to protect your skin from any kind of harm and gives you flawless feelings of a gentle shave and clear skin.
It can charge quickly, its 5 minutes of charging provides you one safe and smooth shave. Braun shaver series 5 5030s has 2 Senso-foil blades with Acti-lift trimmer.
Charging of one hour will last for 50 minutes of continues use. The cleaning center is advanced and efficient with an active drying system. This is the best razor for shaving even on a dense beard.
Braun shaver series 3 3050cc is water-proof for very easy cleaning. It hygienically cleans, lubricates and charges. The ergonomic grip of this efficiently working shaver provides you very secure handling even under the shower.
Braun shaver series 5 5030s is also 100% waterproof and can work amazingly underwater too.
It is recommended for you to change or replace all the cutter parts of the shaver every 18 months for better results.
Its flexible 8 headed direction consists of skin-friendly technology, so one can use it even with sensitive skin.
It is recommended for Braun Series 3 3050cc, not to use your razor with anyone else for hygienic reasons. Try to keep this razor away from children so that they don't play with it.
If you are too young don't use this shaver without any supervision. Keep your shaver tightly closed in a container. Braun shaver series 5 5030s is very good for teenagers with thick facial hairs; moreover, it comes at cheap rates, so it is affordable.
The safety warnings are the same for every shavers or razors. Try to keep it with care for a gentle, smooth and comfortable shave every day.
Braun Series 3 310s Versus Series 5 5040s
Comparison Table
For the sake of skin comfort and safety Braun shaver series 3 310s is manufactured with three pressure-sensitive elements. Its pressure-sensitive blades are skin-friendly and they automatically retract to guard your skin.
Its intelligent design is built in a super-thin head for reaching difficult areas. Braun shaver series 5 5140s comes with many skin-friendly features too, which made this shaver on top priority position.
It is specially designed with skin sensitive technology, which gives you excellent comfort while shaving and a luxury feeling.
The difference you will feel on your face after a shave will be flawless and switching from the older version of Braun shaver to this new one will prove you right.
Braun shaver series 3 310s can be used with foam, gel or even with the water. It comes with two rechargeable batteries for lifelong use and its battery timing is one of its topmost features, needs one hour to be fully charged.
It charges 8x quicker than the usual one, five minutes of charging is enough for a single smooth shave.
Braun shaver series 5 5140s is also 100% waterproof and gives you refreshing shave with anything like water, gel or foam.
Its technology consists of intelligent auto-sensing motors, which suits the density of your beard for an excellent shave and its flexible head is so skin-friendly which can cut the hairs of your beard even at difficult places.
Braun shaver series 3 310s could be tough for your beard but it is very smooth for your skin. It is a tested product that will not harm your skin in any way.
It is a very efficient shaver which cut your hairs with each stroke, so you don't have to circle it over the same place.
It comes with perfect adaption features, which is to adapt every facial contour for more skin contact. The most unique feature of Braun shaver Series 5 5140s is its long precision trimmer, which creates precise beard line sideburns.
It also comes with 8 turning directions flexible head for comfortable and accurate shaving. It also has an A3 level battery display and it's one hour of charging will last for 50 minutes of continuous use.
Braun shaver series 5 5140s can adapt itself for any skin type, whether it is sensitive or a rough one. It has advanced cleaning centers.
The safety warning is the same as other shavers. These shavers can be used on all types of skins and useable for people of all ages.
Braun's shaver products are always highly efficient, skin-friendly and worth buying. They always come up with the same features but with advance technology. These products are highly recommended to everyone.
Features in Common
Skin comfort
Minimizes pressure
Comfort Flex Head
Precision Trimmer
Wet & Dry shaving
Fully washable
Quick shave
Travel lock
5 min. quick charge
Protective cap
Easy clean and charge
60 min. full charge
Performance comparison between the Braun Series 3 vs 5
To put it another way, some major facts can play vital roles in terms of performance. Here a short performance comparison list:
Closeness
If you just have a quick look at the shaver of both series 3 and 5, then you may have the feeling that they have a similar header style. But when you try to look closely or carefully, you will realize a fine distinction between series 3 vs 5.
Not to mention, these two shavers are using the same twin foil as well as trimmer system.
Braun Series 3 is an excellent choice for those who want it for short hair. Because they usually don't provide a good result with long hair.
Braun Series 5 does an excellent job with longer hair. You can get satisfactory result for your long hair.
As a matter of fact, these two can perform pretty well job whether it is short or long.
Comfort
The Braun Series 3 comes with a specialized cutting element. It is pressure sensitive and protected by a patented metal mesh (SensoFoil). It provides a clean and close shave with outstanding skin comfort.
On the contrary, Braun Series 5 electric shaver comes with skin sensitive technology. It provides maximum performance and excellent skin comfort.
In addition, with 8-Direction Comfort flex head, it can create constant skin contact, even in difficult areas for a perfect shave.
Technologies
Series 3 and S5 models are intentionally introduced for different performances by Braun. There are also two different technologies used in these two models.
Speed
In Series 5, Braun has improved the speed of its shaver. It has a specialized and advanced middle trimmer. It captures hair growing and flat-lying hair in different directions.
How it shaves long strands of hair
It is a very vital fact about a good electric shaver is how it deals with long hair.
As a matter of fact, the Braun Series 5 is well capable of handling long hair than Series 3.
What are the superior features in the Series 3 vs 5?
Generally speaking, there are some superior features both in series 3 and series 5. Here is an ultimate list:
Cutting elements
Braun S5 electric shaver comes with up to 40,000 per minute cross-cutting actions for shaving Efficiency. S3 has a triple action cutting system for a smooth shave.
Wet & Dry
You can use both series 3 and series 5 with foam, gel, and water. These two series are wet dry shaver type. So can have dry shaving and wet shaving without any issue.
You'll have a smoother skin feeling and even better gliding. In addition, it will allow you to shave even while you are in the shower.
Handle Display
In the first place, the Braun Series 3 has a simpler LED display but offers excellent service. It notifies you when your shaver needs charging.
The second-generation Series 3 comes with a much better looking three-bar gauge that tells you the level of the battery.
With the Braun Series 5, the shaver provides extra details on its LED display.
Charging and Run Time
Both series 3 and 5 have a very powerful battery that can be charged fully within 1 hour. It will provide you up to 45-50 minutes of cordless electric shaving. Additionally, a quick 5-minute charge is more than enough for a perfect single shave.
Cleaning and charging station helps you to maintain your shaver perfectly.
Shaving Performance
The electric shavers from Braun always provide an amazing shaving performance for all types of skins. You can have very close shaver easily.
Features in Common in the Series 3 and Series 5
Wet/Dry Technology
100% Waterproof and Washable
Flexible Cutting Elements
Middle Trimmer
Travel Storage
Is it Worth Upgrading from Series 3 to Series 5?
It's very important to realize that Braun series 5 has some enhanced performance features. If you are using series 3, you should give it a try and go for series 5.
For instance, you may like the way the Braun series 3 moves along your face with the curves. But when try series 5, you'll realize it performs much better.
It will provide you a very close shave to look more perfect. In addition, it has an awesome detailed handle display for cool user experience.
Wrapping Up
The Series 3 is indeed a fantastic showing from Braun. Braun GmbH makes significant improvements and advancements in every Series, though. But If you remain satisfied Braun Series 3 without checking or testing Braun Series 5, it would be a silly mistake.