Owing to the numerous wireless headset models available on the market currently, an in-depth HyperX Cloud Flight review will narrow down the options. It may just be the wireless headset you have been looking for.
HyperX Cloud Flight headset is a household name when it comes to electronic products that range from keyboards, audio accessories, headsets to gaming accessories. The company's headsets have a reputation for quality, great performance and durability. Previously, HyperX produced wired headsets only, but have now ventured into the competitive wireless set arena with the HyperX Cloud Flight wireless headset.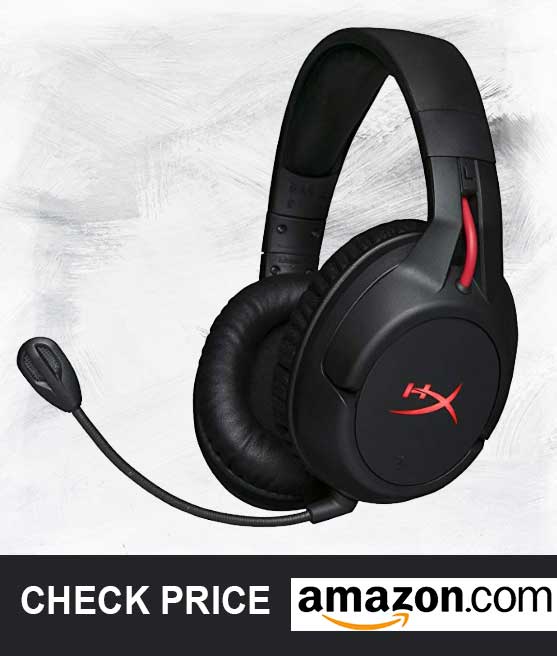 The Cloud Flight headset lives up to the company's reputation as it comes with amazing audio quality and world-class comfort. If you are looking to upgrade or planning to buy your first wireless gaming headset, then HyperX Cloud Flight wireless Headset is worth considering. It is compatible with PS4 and PC devices; is light in weight and has long battery life.

Headset Box
The HyperX Cloud Flight Wireless box contains the following:
– HyperX Cloud Flight wireless headset
-A micro-USB charging cable
-A detachable boom microphone
-A 3.5 mm analogue cable
-A quick start guide
Design
The Cloud Flight headset comes in a basic black design and is constructed using plastic. The monotony of the all-black design is broken by the two red wires that run through each side of the headset, in addition to a HyperX logo on each ear cup, which lights up in red.

The logo's LED lighting is controlled by the headset's power on button, which offers a choice of selecting either a non-interrupted glow, a blinking option or you can switch off the LED light altogether.
The headsets left ear cup contains the power button, the 3.5mm jack, if you choose to wire your audio, micro-USB charging port and detachable microphone.
The right ear cup holds the volume adjustment knob only. A unique and convenient feature that comes with the set is that you can mute the microphone just by simply pressing the left ear cup.
Check out HyperX Cloud Flight Review with Sound Tests:


Since Cloud Flight is wireless, it means you can move around with it and is well adapted for the task, as it weighs a paltry 10.5 ounces. The headset can also be a good traveling companion as both ear cups are flexible and swivel from side to side.
This feature allows you to use one ear cup, leaving the other ear free to listen to other sounds as you travel.
Comfort
What the Cloud Flight headset lacks in terms of stylish design, it makes up for it in the comfort department. The headband is stretchable, allowing it to be adjusted and can comfortably fit all head sizes.
The ear cups are medium-sized and suited for most ears, while the unique faux-leather and memory foam earpads are soft, do not cause sweating and provide the Cloud Flight headset with unparalleled comfort.
Also check out in-depth SteelSeries Arctis 7 Review

The clamping force of the headset ensures it fits tightly, and it can be adjusted to individual preferences courtesy of the flexible headband.
The tight-fitting nature of the headset considerably reduces the chances of slipping and falling off. It is this high level of comfort that makes the Cloud Flight a favorite with avid game lovers.
.
Performance
When it comes to sound quality, the Cloud Flight headset is balanced to perfection and compared to other headsets in the same class, it comes out ahead. HyperX cloud flight price is very much affordable in terms of its performance.
The bass and treble are equalized to form a V-shaped sound signature. This shows HyperX put a lot of emphasis on the bass and treble settings to produce a sound that is well suited for the modern user.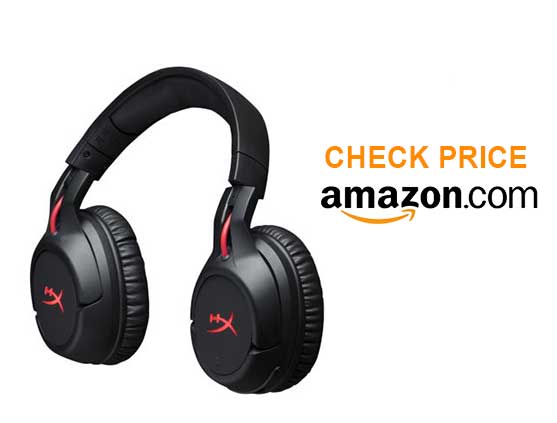 Neither the bass nor treble irritates, distorts the sound, or bothers the eardrums even at high volumes. The bass produces a punch which is not too intense, while the treble is just enough to complete the classic surround sound.
Microphone Type
The detachable boom microphone on the HyperX Cloud Flight is great. The detachable mic, on the other hand, is among the best. It clearly picks up your voice producing a clear and crisp sound.
The mic can be used for gaming with friends, 'Skyping' and online conferences. As mentioned earlier, the microphone is muted and switched on by pressing against the plate of the left earcup.
While it does not have an LED light to indicate the switching on and off, it produces a beeping sound whenever either of the two actions is used.

When in use, the microphone only picks up sound from one direction, which means that any background noise is cancelled out.
Noise Isolation
The closed-back and tight-fitting design of the HyperX Cloud Flight Headset enable you to focus on your game without the interference of outside noises. The cans are equipped to effectively block out any outside noises. On the flip side, you can still listen to a conversation at low volumes or when the game's sound is muted, creating a perfect balance.
Battery life
Without the use of LED lights, Cloud Flight can provide up to 30 hours of power, on a single charge. This makes the headset ideal for gaming marathons or to provide many days of continuous uninterrupted use.

To charge the headset fully takes around two hours using the micro-USB to USB cable.

To save on power, Cloud Flight is equipped with an automatic switch-off, which is activated once the headset is left unused for some time. Also read How to use HyperX Cloud 2 on Xbox One
Durability
Despite using lightweight plastic for the construction of the headset, it does not compromise the durability or sturdiness of the Cloud Flight. This is a quality headset that can provide you with many years of service if handled well.

Although the headband is flexible for simpler fitting adjustments, it cannot be easily broken, while the swivelling earcup joints are solid and well fitted, minimizing the chances of wear and tear.
Ease of use
It is a plug-and-play headset, which does not require a complicated set-up or installation of drivers and separate Hyperx Cloud Flight software. Connection to various devices is achieved by simply inserting the USB dongle.
You can also use the headset with your Mac, PS4 or PC. The Xbox one is not compatible with the headset as it does not support USB audio.
PROS
• Great comfort levels
• Light in weight
• Durable construction
• Long battery life
• Effective and clear microphone
• Noise-cancelling capabilities
CONS
• Does not have virtual surround sound
• The battery does not have a charge indicator
In a nutshell, the HyperX Cloud Flight review shows it is a great choice for gamers who are looking for a headset that combines comfort, durability, long battery life and effective functions.

To purchase the HyperX Cloud Flight headset from the comfort of your home or workplace, click here to buy from amazon

The world of technology is ever-changing and new products are constantly being launched, improved or updated. Keeping in touch with the latest gadgets and trends can be almost impossible, until now.
This is a website fully dedicated to providing informed and well-researched reviews on the latest gadgets, best quality products and services.

Check it out today, and get accurate and reliable information on a wide variety of quality technological products and services. Which will, in turn, sharpen your decision-making abilities in relation to technological products and you will then be able to make informed choices.
Related Articles:
Best Electronic Gifts For Men – Top Gadgets for you your Beloved Person
Cool Technology Gadgets & New High Tech Products
Best Budget Wireless Headphones