Smartwatches are used for effective and easy communications via incoming SMS, calls to social media notifications. Are you looking for a cool watch to check the time, use the calendar, or alarm? If yes, then I would suggest you not continue reading this article as you can use your smartphone and save your money.
But if you want to catch up with society and stay connected with people, and be ready to go with new tech gear, then I will convince you to read our in-depth review of the best smartwatch under $250.
Best Smartwatch Under $250 At a Glance: Top Picks
Best Overall: Samsung Galaxy Watch
Best Fitness Tracking: Ticwatch Pro
Best Health Features: Garmin vívoactive
Best Battery: Fitbit Blaze
Best Value: Apple Watch Series 3
Premium Quality: Samsung Gear S2
Best Workout Partner: Motorola Moto 360
Best For Versatile Styling: Fitbit Versa 2
Best For Fitness Fanatics: HUAWEI Watch GT 2
Best For Attractive design: Casio Pro Trek
Advantages of Best Smartwatch under $250
You can get notifications, HR & BP data by lifting your wrist. So let's take a look at the advantages of the best smartwatch under $250 which will push you to make the decision to purchase and enjoy these benefits.
You have a doctor on your Hand who tells you about your health and fitness markers as heartbeats, and pulse so you will never need a doctor once more to follow up with you especially if you are a fitness trainer.
You can for sure interact with messages and call people while you are Riding your Car, training, or doing anything, and don't need to use your smartphone.
You will catch up with social media and see all the notifications of Facebook, Twitter, and any other social media apps you used to open, so now you can connect with people and catch-up with Notifications without your smartphone.
you will not be depressed once more when you lose your phone, because, with the "Find Phone" feature, You can link your phone to the smartwatch and locate your phone immediately, and ring it when you need it.
You will enjoy your entertainment while you are going out very simply, and can watch videos and listen to music, but for sure it will not be of the same quality as the large screen of your smartphone.
You don't need to be panic when going on a long trip as a smartwatch has a much longer battery than a smartphone, which can help you to connect with people for up to days without a recharge.
You have a travel Buddy that can send you vibrations to tell you to go right or left instead of looking Constantly at the smartphone.
So I think now I managed to convince you to take the decision of paying for the best smartwatch under 250 dollars, and now I will help you to choose the best one that fits you a lot among the top 5 smartwatches.
TicWatch Pro Premium Smartwatch
Experience more improved battery life and the latest Google Fit™ app update.
---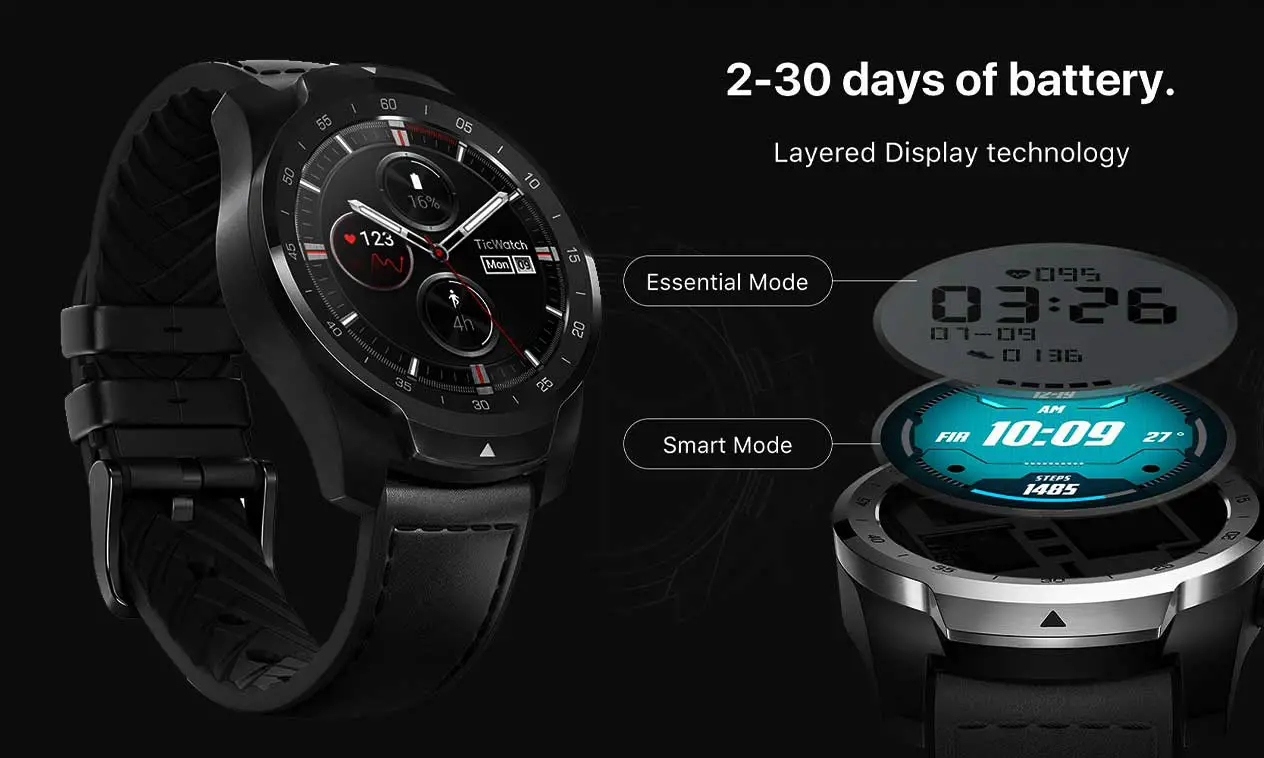 Mobvoi is the company that sells this smartwatch and its most expensive one, and despite being not Well known company as apple but the customers compare it a lot to apple series, and it is from the best seller on amazon
people who don't have I-phone and want to buy smartwatches in this price range should take in opinion this watch among the top smartwatches.
Design:
Generally, it has a very different design than the known apple watches. If you wear it you feel like you wearing an ice watch. So people who enjoyed wearing ice watches will admire this smartwatch. This design attracts a lot of customers.
The Ticwatch Pro has a new design and fantastic dual-screen technology.
The watch has a large body and weighs a little more than other watches but you will not notice it is too heavy, so generally, you will feel comfortable.
Summary:
It won't offer a trial as interesting as the (Apple-Watch 3), but it's still the first choice for many customers nowadays.
The Ticwatch Pro is designed for people who want the best budget smartwatch that can do lots of different functions and offers a top-end advantage but also a manageable price.
Let's check out the Ticwatch Pro review video:
It's most advantages are the fantastic design, the presence of many sensors for fitness, the very long battery life with the dual display, and the manageable price.
There could be few disadvantages as limited Mobvoi app, no LTE version, and Mediocre battery in smart mode.
Apple Watch Series 3
---
For Sure the apple watch 3 is for the apple company which makes a comfortable feeling of confidence for any customer, and although it is not the last apple product it is stills a very recommended smartwatch which is the top seller on amazon.
Design:
The design of this watch is well known to each of us and almost identical to previous models, the design of apple watches has become pretty iconic, and for people, the apple watch is an instant recognition like I-phone, so apple doesn't need to upgrade this design as it gives a comfortable feeling for customers.
The screen uses the technology of OLED, so it is one of the most catchy screens. nowadays.
SUMMARY:
For sure apple watch, 3 will be the first option for people who have I-phone or people who want to buy a perfect smartwatch and don't want to pay much to buy an apple series 3 or a Samsung galaxy smartwatch, so it will be an excellent option at this price range.
What's are Apple Watch Series 3 advantages?
There are some amazing advantages. Let's check them out:
The long duration of the battery, marvelous screen, and the that it resists water are the main reasons which persuade you to buy it, especially if you don't need to pay more for the next versions.
Let's watch review video of Apple Watch Series 3
If you search for Disadvantages we can say that it is only I-phone compatible and Siri is still patchy, and high price for 4g model.
Samsung Gear S2 Smartwatch
---
This watch is made by the Samsung company and it was Samsung's best smartwatch for a while and for sure Samsung gear s3 offers more but this watch is a solid option for android users.
Design:
The Samsung gear s2 continued the way of attractive smartwatches after apple and made a wonderful watch with a smart round design and innovative rotating bezel which is better than Apple's digital crown.
It is designed to be water and dust-resistant so you can wear it with pleasure during a shower or rain.
It has a very small weight(47g) so you can bear wearing it for a very long time.
Summary:
Generally, if you don't want to pay much for a Samsung gear g4 this one will be a more suitable watch for you and can compete with Apple watches.
Its main advantages are the rounded design, and its catchy bezel which is so marvelous, and makes the customer have a good experience, so this smooth and comfortable trial is a big reason to buy this watch.
Its advantages are Slow voice control, the lack of many high-quality applications.
Motorola Moto 360
---

Motorola Company became one of the most important companies in making smartwatches these days, so it came to us with this Smartwatch which becomes one of the most attractive watches for customers.
You can control it with your voice. It comes with turn-by-turn navigation features.
Design:
This smartwatch fits a lot of people who admire circular watches as moto360 have a circular Body and a wonderful strap
 The body is silver stainless steel and there is a wonderful strap, for which some customers buy exactly this smartwatch.
This watch can be Categorized as one of the traditional-looking watches.
Summary
Generally, if you are not lovers of apple devices and want a different smartwatch with a special design you will never forget motorola360 and it may be your first choice if you admire its traditional-looking design.
Its main advantages are: wonderful UI, attractive design and its small weight attract a lot of customers who want to wear a very smooth watch and will fit a lot of people who do fitness as Moto 360 is linked with google as it one of the best fitness smartwatch. Additionally, you will be able to track your activity whenever you want. You can also check smartwatches for under 100 dollars.
Its main disadvantage is battery life. It was a little smaller than we expected, the design is a little thick, and also the absence of wireless discharging.
Samsung Galaxy Watch
---
Samsung company come to us with the Samsung galaxy smartwatch which becomes one of the most attractive watches in the market nowadays and can exceed the apple watch 5 for some reasons.
Design:
People who use it always say it seems to be a real watch.
Its size looks good on most wrists.
Its rounded screen makes it looks so fashionable and also its bezel is so attractive.
Some customers who used the watch said that The Samsung Galaxy is the first watch now which managed to be both fashionable and functional to this level.
Summary:
When we talk about the Samsung galaxy watch we must know that it is one of the most special smartwatches you can buy today and you can choose it and ignore the apple-watch 5 for its battery.
The Galaxy Watch is Samsung's most durable smartwatch, especially for fitness training, and also its battery can stand up to four days, and its size is highly comfortable. Also check: best smartwatch under 50
Are you searching for the best GPS watch for hiking?
Its main advantages are its long battery life, for sure its Samsung software, rotating bezel, and it is the best GPS watch from Samsung.
Its main disadvantages are wireless chargers, and absence of Google Maps, and some social media such as Facebook, WhatsApp.
Final Verdict
We strive to help our readers with the best smartwatch which is a good combination of form and function. With greater power of new features are being added from time to time and longer battery life, smartwatches are getting more sophisticated day by day.