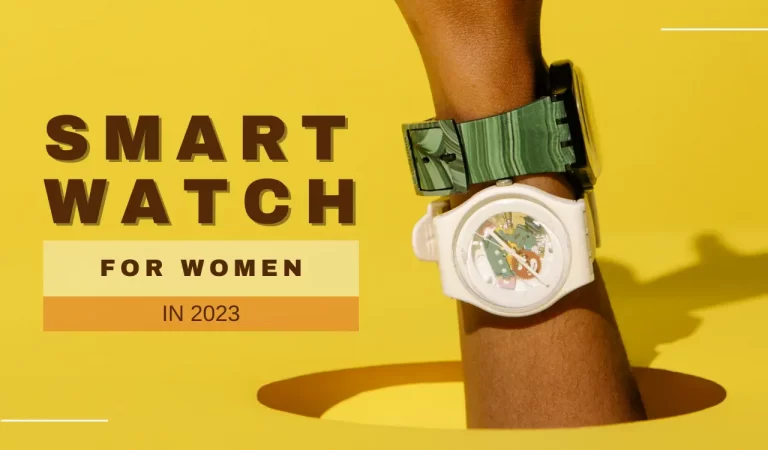 Best budget smartwatches now hold a different meaning than the previous years. Now for only a couple of bucks, you can stay connected to your friends and family, check your heart rate, have GPS tracking, and more while wearing something stunning on your wrist.
The market for the best cheap smartwatch is getting massive every day. And with the recent improvement, they offer you almost the exact features you will get in a premium smartwatch. But with so many options in the market, finding a smartwatch under $200 can become tricky.
Keeping that in mind, we have developed a comprehensive list of the best budget smartwatch for women. So, without any further ado, let us dive right in.
List of the Best budget smartwatch for women
• Fitbit Versa 3 Health & Fitness Smartwatch
• Amazfit Bip U Pro
• Garmin Forerunner 45
• Apple Watch Series 3
• Garmin Lily
• Fossil Women's Gen 5E
Fitbit Versa 2 Health & Fitness Smartwatch
If you are on the internet looking for an affordable smartwatch for women, then you have already heard about the Fitbit Versa Lineup. Due to such overwhelming popularity and unique features to offer, the Fitbit Versa 2 comes first on today's list.
Design and display
When it comes to design, the Fitbit Versa 2 is one of the most eye-pleasing options on the market. This smartwatch is a complete bang for the back from its squircle design, replicating the Apple watch with its polished finish.
With only 0.47 depth, it is a very slim smartwatch. It also features an always-on AMOLED display with a screen size of 40mm. This is a perfect ratio and length, suitable for almost any wrist.
The strap also comes with a wide array of color options, including Patel/Copper Rose, Bordeaux, Navy or pink woven, and Black.

Fitness tracking features
The best-selling point of this budget smartwatch is its fitness-tracking capability. The versa two can track several workouts like bike rides, long runs, Pilates, and much more. Due to its excellent strap design, it will always feel comfortable regardless of your activity. You also have the ability to start and stop the tracking of your workouts with the press of a single button on the side.
Amazfit Bip U Pro
If you are a fan of budget health trackers, you will instantly fall in love with the Amazfit Bip U Pro. This model is the polished version of the previous Amazfit Bip U and comes in less than $70. Even though it is still within the budget smartwatch category, it adds tons of new features to its predecessor model. So let us check them out.
Fitness and Health features
The place where this fantastic smartwatch truly shines is its fitness tracking capability. This smartwatch for women comes with a high-end heart rate monitor with excellent accuracy throughout the day. To top it all off, the SpO2 sensor, breathing tracking, and sleep tracking are also there.
If you are someone who is into sports, then we have good news for you. The Amazfit Bip U Pro can track over 60 different sports with its sensors.
Design and display
The Amazfit Bip U Pro is for those who love and lives minimalism. The design is simplistic with a green, black, and pink color option. However, we have to mention that the smartwatch is pretty thick, measuring 11.4 mm. That being said, it does not feel heavy on your wrist due to its lightweight design.
Considering how cheap a smartwatch this is, you can also spend a few bucks on any 20mm strap in the future.
As for the display, it features a 1.43-inch TFT LCD screen with 320*3200 pixels. Although it is not AMOLED, it offers excellent visibility both indoors and outdoors.
Garmin Forerunner 45
Another great feature-rich affordable smartwatch for women is the Forerunner 45 from Garmin. As the name already suggests, it is one of the best-running smartwatches with an affordable price tag. If you are looking for an entry-level smartwatch to elevate your fitness tracking, then Garmin Forerunner 45 is a great start.
Screen and design
This Garmin smartwatch looks very sporty on the wrist. The orange tone on the belt combined with a 1.04-inch 208 x 208 display makes it look very pleasing to the eyes. We understand that it is not on par with the resolution of any top-end smartwatch like the Apple watch. But considering its price, this is well worth every penny.
It also has a unique five-button setup that you can use for start/stop, Down, up, and backlight control. Additionally, the intuitive menu will elevate your smartwatch experience heavily.
Features and usability
For such an affordable smartwatch, you get a lot of features from the get-go. You get adaptive training plans with up to 2000 hours of data storage. Although the smartwatch seamlessly connects with your Garmin Connect app.
With the app, or the smartwatch itself, you can choose your running goals like distance covered, target time, pace, and much more. Along with all that, the smartwatch also offers cadence stats, which is arguably the most important sat for a beginner runner.
Apple Watch Series 3
If you are someone who does not want to get out of the Apple ecosystem, then series three should be your choice. The apple watch series 3 is a great budget smartwatch for both men and women. Like the premium Apple watches offer, you will get the most seamless integration if you are an iPhone owner.

Display and design
Even though it offers a smaller display than the apple watch 4, the aesthetic of the display design is truly timeless. Whenever someone sees the watch in your hand, they will be able to recognize it instantly. As with every other Apple device, the design of this watch is iconic.
The Series 3 also features a 1.65-inch display with a rectangular shape for more functionality. It also always uses the latest OLED technology to be one step ahead of any budget smartwatch display.
Battery life
If there is anything that impressed us the most, then it will be its excellent battery life. It can stay connected to the LTE network while doing intensive fitness recording for an hour while dropping only 20% of the whole battery. When the smartwatch is not connected to an LTE network, it features more excellent results.
Garmin Lily
Whenever we think about a budget smartwatch that looks elegant and stunning, the first name that comes up is the Garmin Lily. This smartwatch is dedicated to women who want something stylish and fashionable on their wrists.
Build and Design
Garmin Lily shines when it comes to design. The smartwatch was designed with all-female users in mind. It is one of the smallest fitness trackers ever designed to this date. It features a beautifully patterned face with a slim 14 mm strap. Due to this unique design, it can go with pretty much any outfit or jewelry.
It also comes with two different models. The sports model features a silicone band and a decent aluminum bezel. But if you want to spend some extra bucks, you can get a classic version that features an Italian leather band with the watch.
Features
Design and stylishness are not all this smartwatch has to offer. The Garmin Lily comes with a top-notch heart rate monitor and other sensors that can calculate your energy level, amount of burned calories, sleep, steps, blood oxygen level, and much more.
Fossil Women's Gen 5E
Fossil is a big name in the world of watches. And the Gen 5E is the best-selling smartwatch from Fossil, specially dedicated to their women customers. With support for both IOS and Android, this budget smart-watch ticks all the right features to make it on today's list.
Features
The first impressive thing about this smartwatch is its battery. It offers 24 hours of multiday battery backup from one single charge. It takes less than 50 minutes to charge it from 0 to 80%, which is quite impressive.
It also has an intelligent always-on display with over a thousand watch faces to resonate with your styles. If that was not enough, it also offers support for hundreds of apps like music, socials, news, payments, and much more.
The Fossils Women's Gen 5E works like a charm when it comes to health and fitness. It will make the user feel confident during fitness activity due to its fabulous design and assist them every step of the way.
The smartwatch automatically tracks all fitness goals. It also offers heart rate monitoring, sleep tracking, and Cardio levels. The Integrated GPS also tracks your running distance and path, which you can later check on the dedicated app. And due to its connectivity feature, you will get notifications directly on the watch for any calls, texts, or app alarms.
How to choose the best budget smartwatch for you
The first thing you have to remember while shopping for a budget smartwatch is to look for the exact same thing you would if you were shopping for a premium smartwatch. Today, many budget smartwatches for women offer a bang-for-the-buck feature. So do not go for low-quality products thinking that is all you get for your money.
The second most important thing to keep in mind is the type of smartphone you use. Depending on your smartphone, your choice may vary. For IOS users, we highly recommend opting for the Apple Watch Series 3 due to its fluid functionality. But if you are using an Android, you have plenty of more options on your list.
The next thing you need to think about is whether you are entirely into a high-level fitness regime or not. If you train daily, do high-intensity cardio, or like to swim, then opting for a water-resistant smartwatch is the way to go. But if those are not the case, you can save quite a few bucks on non-water-resistant options.
The last thing to remember is always go for a smartwatch that offers accurate heart rate monitoring and GPS. These will help you keep track of your fitness and overall health. Although the SpO2 sensor is a great addition, it is not always worth the money if you opt for a budget smartwatch.
Final thoughts
That ends our today's discussion on the best budget smartwatch for Women. We tested all the aspects of the watches, including how they look on the wrist, how they perform, and the accuracy of their sensors.
We understand that there is no one-size-fits-all when it comes to budget smartwatches. All the smartwatch we talked about today has something unique to offer. So get the one that resonates with your style and needs the most.
Related Articles